CHARBEL MAKHLOUF
THE LEBANESE SAINT
WHO HAS BECOME A LEGEND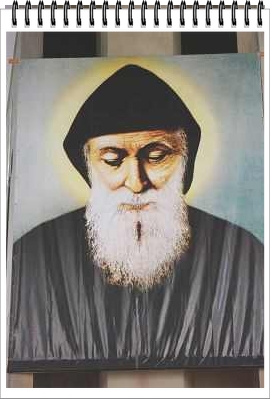 Visit ou website www.charbelfriends.com


Saint Charbel Makhlouf is one of the best known saints in the Middle East.
He arouses admiration and universal awe because of the extraordinary miracles and signs wrought through the power of his intercession.

He was born in 1828, the fifth child of poor parents Antuna and Brigida Makhlouf, who lived in the small hilltop town of Beqaakafra, 140 kilometers north of Beirut. He was christened Joseph, his parents being Catholics of the Maronite Rite. Their children grew up in a joyful atmosphere of mutual love which flowed from a life of daily prayer and hard work on the land. During this time Lebanon was under the rule of the Ottoman Empire.
When Joseph was three years old, his father died. To ensure her children's keep and education, Joseph's mother decided to remarry. She took as her husband an upright and devout deacon by the name of Ibrahim. At the age of fourteen, Joseph felt the call to the monastic way of life, but it was only in 1851 that he decided to enter the monastery in Maifuq. He applied for admission and there spent the first year of his novitiate. In his second year he moved to the monastery in Annaya, where, on November 1853, he took his preliminary vows and took the name of Charbel, after the Antiochian martyr of 107 A.D. He finished his theological studies and was ordained to the priesthood on July 23rd, 1859.

As a young priest in 1860, he was witness to the appalling massacre of over 20,000 Christians by Muslims and members of the Druse sect. Muslim troops murdered entire families of Christians without mercy, looting, plundering, and burning churches, convents, farms, and homes. Hundreds of refugees, hungry, wounded, and terrified by what had happened and might yet happen, sought shelter in the monastery of Annaya. Father Charbel rendered every possible assistance to the refugees, all the while praying, fasting, imposing severe penances upon himself, offering himself to God in a spirit of expiation for the crimes committed, and begging for God's mercy on persecutor and persecuted alike.

On February 15th, 1875, after spending seventeen years in the monastic community in Annaya, Father Charbel received permission to move to the hermitage of Saint Peter and Saint Paul, there to unite himself with Christ, through prayer, manual abor, and even stricter acts of self-denial. This tiny, isolated hermit (home to but three monks) stood 1,350 meters above sea-level. Charbelís cell was only six meters square. He always wore a hair-shirt under his habit and slept only a few hours every day. Once a day he ate very meager meals without meat. The Eucharist was the focal point of his life. After long preparation, he would say Holy Mass in the hermitage chapel, then remain there for two more hours of thanksgiving.

His cherished form of prayer was Adoration of the Blessed Sacrament. His daily round consisted of meditating on Holy Scripture, praying without cease, and working. In this way Charbel offered himself up to God, that God might purify his heart and free him of all evil inclinations and selfishness; in other words, He made him into a saint, such as Jesus desired. His fellow monks considered him a saint during his life-time, for they knew just how heroically he strove to imitate Jesus.

Only certain people are called to a way of life as rigorous as Charbelís; but Christ calls every one of us to holiness. Our purpose on earth is to grow in love, to attain heaven; that is, to love as Christ loves us, and to realize in our daily lives His greatest commandment "that you love one another even as I have loved you, that you also love one another "(Jn 13:34).
Father Charbel died on Christmas Eve of 1898, while celebrating mass. Outside, it was snowing hard, and a chill wind was blowing. All the roads to the hermitage were snowbound, and no one from the monastery could inform the local villagers of the hermitís death.

Yet a strange thing happened. That very day every local villager experienced an inner conviction that Father Charbel had been called to heaven. Young men set out with shovels to clear the snow, that they might reach the hermitage and carry the body to the monastery in Annaya. "We have lost a brilliant star that protected our Order, the Church, and all of Lebanon with its holiness" wrote the Prior. "Let us pray that God make Charbel our patron, who will watch over us and be our guide through the darkness of our earthly life".
On Christmas Day, Father Charbel was laid to rest in a communal grave in the monastery.