SAINT PIO OF PIETRELCINA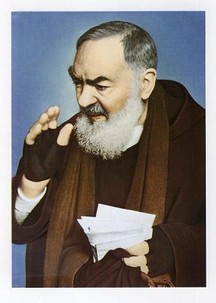 Padre Pio was born the 25 May 1887 in Pietrelcina (in the south of Italy), from Orazio Forgione and Maria Giuseppa De Nunzio. He was the last son of eighth child, two of whom had died in infancy and a daughter entering eternity in her twenties.
The newborn son was given the name of Francesco, after St. Francis of Assisi, and baptized the very next day in the main church, which is actually the Church of Mary of the Angels.
The Forgiones worked from the rising of the sun to its setting raising crops on land belonging to a relative. The children helped also.
Francesco had promised at the age of five his special devotion to his patron Saint, Francis, and when he was 15 years old he was entered in the Franciscan monastery of Morcone. His family did not have enough money for his studies, so his father Orazio went to New York and work in a trade there to earn the necessary money.
On the 10th of August, 1910, Padre Pio – his religious name - was ordained priest in the Cathedral of Benevento. He said his first Mass the next day in Pietrelcina in his home parish.

THE STIGMATA
For several years Padre Pio remained in his home town, because his health was precarious and so it was considered best for him to stay on in Pietrelcina. As soon as he was a priest, he begin to experience the assaults of Hell. He was tormented and beated by the Devil and endured mysterious attacks.
In September of 1915, while praying, he suddenly felt sharp, stabbing pains in his hands and feet and on his left side under his heart. He was in anguish with the invisible stigmata. In February of 1916, he was appointed to the friary of Saint Anne in Foggia. The climate there was of benefit to his health, so he was there for only tho months, and transferred again, this time to the monastery in San Giovanni Rotondo where the climate was mild and more favourable to recovering his health.
San Giovanni Rotondo is situated on the side of Mount Gargano near Monte Santangelo approximately twenty-five miles from Foggia. The monastery of the Capuchins is a mile outside of the town and originally it could be reached only by a narrow, rocky path, which lent to its seclusion.
The Saint's routine consisted of daily Mass, hearing Confessions, directing his spiritual sons, community prayers, private prayer and meditation, a short recreation period, receiving visitors and one frugal meal of mainly vegetables and bread and the rare serving of eggs or fish.

Most of his priestly life was pent in the confessional. Padre Pio would be in the confessional as much as eleven hours a day. His Mass would last at least an hour and a half, but at the beginning also three or four hours.
His reputation for holiness began to grow, drawing people from all over Europe seeking spiritual advice and healing and to hear his Mass. Padre Pio received the invisible Stigmata in Pietrelcina on 1915, and the visible ones at San Giovanni Rotondo. He is the only priest who bore the wounds of Christ (Saint Francis was only a brother).

On 20 September 1918 Padre Pio was praying in his stall in the choir, when suddenly the monks heard a piercing cry. On running to find the cause of it, they came upon Padre Pio lying unconscious on the floor of the choir, his hands, his feet and his side marked with deep, bleeding wounds. He was carried to his cell where he implored his brothers to keep his secret. He had worn invisible stigmata for three years, and now they were there for all to see.
He has been the subject of endless and painful medical examinations, and has undergone every kind of healing treatment, but the wounds remained open and completely free from infection.

In a letter to his spiritual director, Pdre Pio describes the mystical event: "On the morning of the twentieth of last month, in the choir, after I had celebrated Mass, I yielded to drowsiness similar to a sweet sleep. All the internal and external senses and even the very faculties of my soul were immersed in indescribable stillness. Absolute silence surrounded and invaded me. I was suddenly filled with great peace and abandonment, which effaced everything else and caused a lull in the turmoil. All this happened in a flash. While this was taking place, I saw before me a mysterious person similar to the one I had seen on the evening of 5 August (the date he received the Transverberation, the mystical piercing of his heart). The only difference was that his hands and feet and sides were dripping blood. The sight terrified me and what I felt at that moment is indescribable. I thought I should die and really should have died if the Lord had not intervened and strengthened my heart, which was about to burst out of my chest. The vision disappeared and I became aware that my hands, feet and side were dripping blood."
Padre Pio makes it clear to us in his writings that while he ardently desired to suffer for Christ, he never had the slightest desire to see those sufferings externalized in his flesh and made visible to those around him.

THE MYSTIC
The Church is normally very cautious in recognising miracles or extraordinary phenomena in those whom popular opinion is quick to consider Saints and wonder-workers. It was quite natural that the sensational reports emanating in 1919 from San Giovanni Rotondo and the furor which resulted around the person of Padre Pio at the time should lead to rigorous investigation by ecclesiastical authority. It was also natural that more than one illustrious member of the medical profession should be sent to examine the phenomenon.
That Saint Pio was a mystic in the true Catholic sense, there can be no doubt. In his letters to his advisors, he describes his writes: "I feel my heart and my whole interior permeated by the flames of an immense fire. Along with the atrocious agony caused by these flames, my soul experiences an exceeding sweetness which makes me burn with love for God".

The first attribute of Padre Pio that leaps to mind is that of special faculties of discernment in the confessional. The friar was telling penitents of sins they had not confessed or forgotten.
Padre Pio had the gift of arousing a sense of sin in a generation from which a horror of sin was fast fading. He knew the enormous evil that sin is, often saying that he "was the biggest sinner in the world", going to Confession himself often, sometimes every day.
Several million people converged on San Giovanni Rotondo, to reach Padre Pio's confessional, but a large number of his penitents were sent away without absolution. In most cases the result was a radical change of ideas and of conscience.
Padre Pio demanded a Confession that was also a conversion. Finally, he quite often mentioned the sins committed without having heard them from the penitent.
This was possible because of his charism of discernment.
The one condition he required in every penitent was repentance. It was this demand that led him to expel some from the box with raised voice and rough words. In almost every case they returned to Padre Pio in a different frame of mind and then received absolution.
Saint Pio had also a great devotion of charity for the Holy Souls in Purgatory, especially those souls most forgotten or abandoned. He never missed a day to pray for them and offered many Masses for their suffrage. His petitions on their behalf were so efficacious that often the Souls would pay him a visit to thank him and ask for more suffrages.

HIS THREE GREAT LOVES
Padre Pio had three great loves: Christ, the Church and Our Lady. A scrutiny of the life of our humble friar, never reveals anything but filial submission to his superiors and the Holy See itself, which had to investigate certain charges brought against him, unjustly; never once would he permit anyone to insert themselves on his behalf.
He always hastened to make it clear that we must never question the orders which come from superiors, but simply abide by them and carry them out to the best of our ability.
When news of this special grace from God, the only time granted to a priest, hit the press, it sparked a sensation. The story somehow was leaked from the friary in 1919, and as is usual in these situations, there arose several inaccurate reports. The Pope sent some legates to follow the course of events on Mount Gargano and Padre Pio had to endure a series of painful trials which in the end resulted in his favour. This period of his life was the most difficult, serving to show his profound devotion to the Church and his absolute loyalty to the Pope. In fact, various exhortations, orders and decrees deprived him of almost all his priestly faculties. Also when he was prohibited from saying Mass publicly and from hearing Confessions, he remained docile in the face of such repressive measures. It is on March 1933 that Pius XII gave his blessings to the undertakings of the San Giovanni friar, pleased to hear of the conversions and other spiritual benefits though the ministry of the humble Capuchin.
The charity of St. Pio of Pietrelcina is exemplified by the House for the Relief of the Suffering or "Casa Sollievo della Sofferenza", the magnificent hospital that he built at San Giovanni Rotondo, for the sick of Monte Gargano where no hospital existed. His construction began in 1947 and ended in 1956.

HIS DEATH
On Friday September 20, 1968, the 50th anniversary of the Stigmata, Padre Pio was very weak, confined to a wheelchair, but still said Holy Mass. On Monday, the 23rd, very early in the morning, he asked his confreres to come and made his last Confession. He received Extreme Unction too.
At 2 AM he exclaimed that he could see his two mothers, his earthly mother and Our Lady. Even now his hands were still bleeding as he held his Rosary. With his dying breath he uttered Jesus, Mary, Jesus, Mary, and he passed into eternity with these last words.
After he died his stigmata were miraculously healed. Thousands of pilgrims came to pay their last respects and to unite in sorrow over the loss of Padre Pio.
Padre Pio was canonizes in 2002. His feast day is September 23rd.
His body is entombed in the crypt of Our Lady of Grace Church at the monastery in San Giovanni Rotondo.