PADRE PIO AND OUR LADY OF POMPEI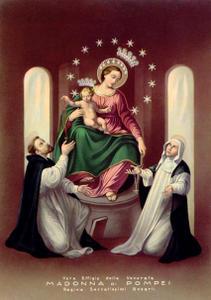 From his earliest years Padre Pio honored Our Lady of Pompei and on three occasions he went to her shrine near Naples.
Even while he served in the army as a young friar, he took every opportunity to pay a visit to Pompei from Naples where he was stationed, to pray to Our Lady. When he left army service for a six months' convalescence in 1917, he went again to thank Our Lady of Pompei for this grace. He made one novena after another novena for a return to conventual life, though still obliged by ill health to stay in his own home. He also prayed to her for what he called his "speedy departure", by which he meant his death. He asked his directors and to others bound to him by spiritual ties to say novenas to Our Lady of Pompei for his intentions.
It was to the Virgin Mother of God honoured under this title that he also directed his fervent prayers to be finally exempt from the military. At last he was granted a return to his community and a discharge from the army, but the "speedy departure" would not be for half a century.
In 1968, when he knew that he was dying, it was to Our Lady of Pompei that he turned, to thank her from the depths of his heart.